"There's been some pretty low points. I couldn't keep going on. Baby Girl kept me from doing bad deeds. They give me fulfillment. To forget the horrible stuff I just keep focusing on them. They give me a will to keep going – without them I wouldn't have anything to live for."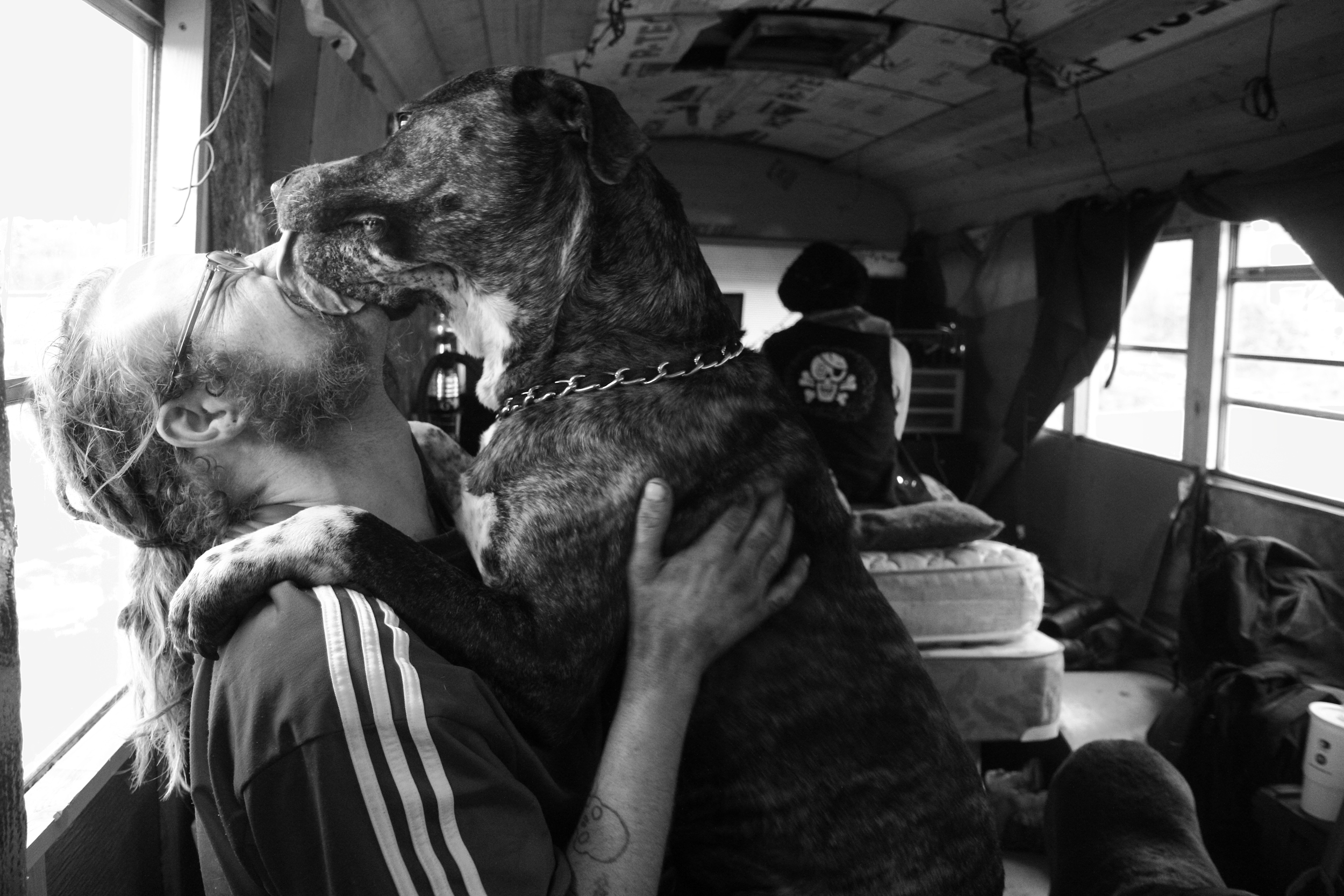 I watch LOKI as he sits propped up in Danny's lap, unaware of his size, and wonder if I've ever seen so many doggie kisses laid on at once. Danny soaks them all up with a smile that shows pure joy. He lives in a school bus with a friend, Guy, and their three dogs between them. Cheese belongs to Guy, while Baby Girl and LOKI are Danny's babies.
Danny found Baby Girl eight years ago while hitchhiking in Arcadia, when a family he met gifted her to him. Three years later, LOKI (Leonidas Odysseus Kilowattus Ignatius) came into his life when Baby Girl gave birth to her first litter. Even though Danny had made a nice comfy den for her to give birth, she went into labor in the middle of Pioneer Square next to a construction site - "She wanted to give birth next to a jackhammer," Danny jokes. A construction worker took off his jacket and gave it to her as a cushion during the birth. Eleven pups later, she held onto LOKI, pulled him close, and gave Danny a look that said "If you take this one from me I'll rip your nuts off." And so now Danny had two dogs.
Danny has been homeless since he was discharged from the military in 2004 - the economy was bad and no one was really hiring, though he was able to piece together odd jobs over the next three years. His last job was at a Pizza Hut in Olympia. "Now," he says, "No one is hiring me because I haven't had any work experience in the last six years." When he first arrived in Seattle in 2007/2008, he had trouble finding shelter because of his dogs - "Some people don't want dogs at all, some charge more money for them," he tells me. An experience at a boarding house wasn't for him, either, "They had too many rules and not enough space. Being homeless you have more space."
It's clear from watching them that Danny, Baby Girl, and LOKI have been through a lot together and that they're all head-over-heels in love with each other. "She's got a good sense of who I should have around me. I should listen to her more," he says, although he also notes that her protective nature has made it difficult to have a girlfriend. One night spent with Baby Girl stands out in his mind:
"She has a serious mark on my soul. A while back I was locked out of my grow-op and I took the little money I had and went to Wal-Mart to buy a tent and a blanket. I found a spot to put it up and the weather was good then, but during the night it started to sleet, snow, and rain. My tent filled up with ice water and I woke up freezing and soaked. It was the only time I really ever contemplated suicide. It was really hard. I cried out "Baby Girl!" and she came and pushed my body up to the highest point of the tent. She wrapped her body around me and started shaking to warm me up. About ten minutes later I was starting to feel warm where she was touching me and was able to sleep about an hour or two. I got up and left the tent but took the blanket. She kept me from doing something really bad."
These days, Danny gets his dog food and stays up to date with vaccinations at the Seattle Animal Shelter, where he had Baby Girl spayed three years ago using a voucher he'd procured at the Doney Memorial Pet Clinic. As for himself, he says he would have no problem getting someone to babysit dogs if he had a medical emergency - if he just wanted to go party then no one would watch them - but for a medical issue he'd always have someone.
As he talks about taking care of his dogs, he recalls those times when he's been at the receiving end of society's stigma placed on people experiencing homelessness with their animals: "I've had people spit on me, throw stuff, just say super degrading things [when panhandling]. They say 'You should be ashamed of yourself being homeless with a dog. Dogs need open spaces.' That's the most oxymoronic thing... I feel that having a dog locked inside of a house all day is more abusive than a dog with a homeless person… how much more open space can a dog get than the back yard of the world??"
No matter the struggles he's encountered, the dogs come first: "I make sure that they come first. I'll be in a bad place before they are. I'll go without food. If they don't have food, I don't have food. If they don't have food, I don't have drugs. If they don't have food, I don't have nothin'."