"We're in it together until the end... Imagine how hard it would be without your four-legged friend to walk with you down the path of life."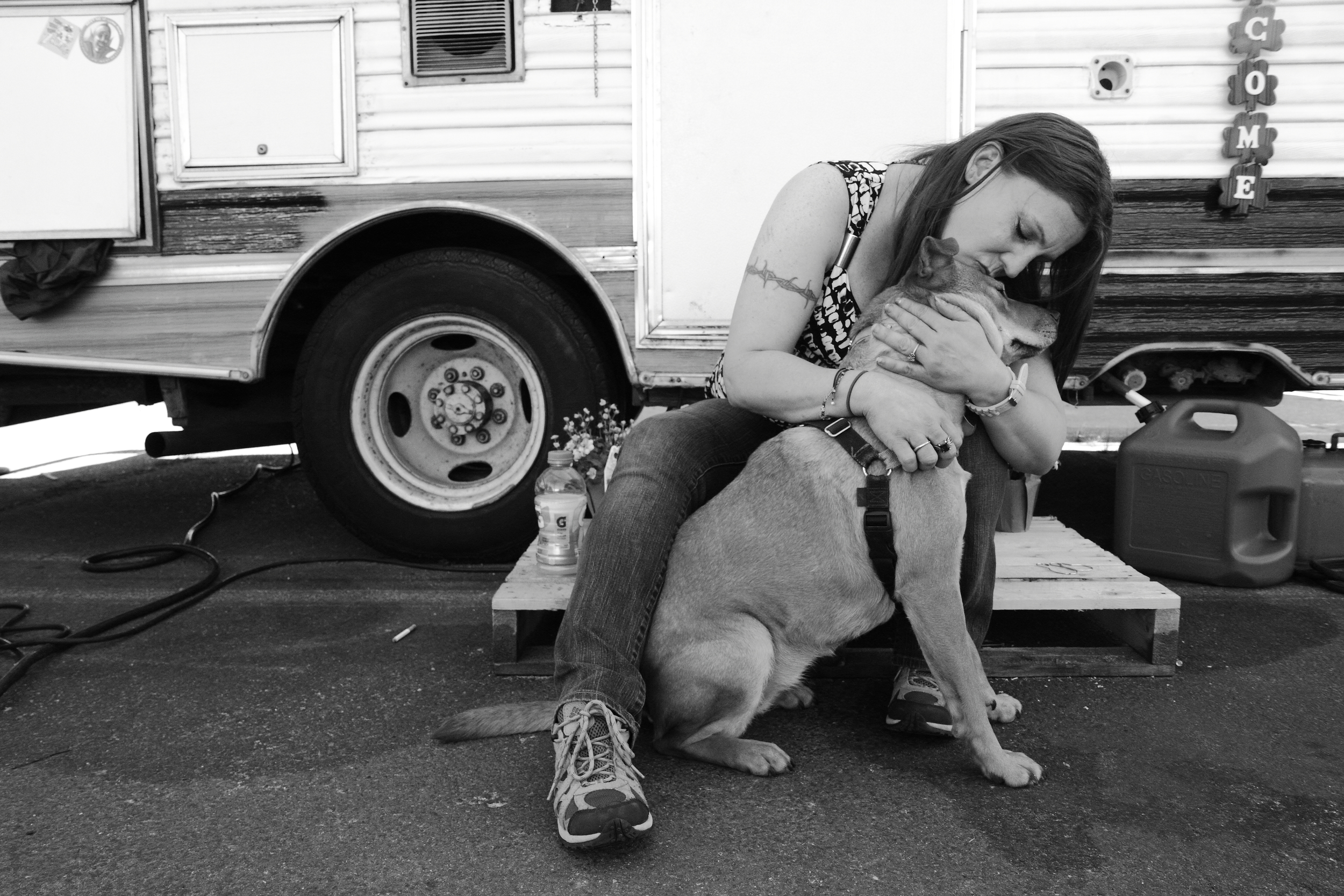 Watching Penny Lane and Déjà, it is clear that they share an incredible and unique bond - there is a calmness between them, as if they're quietly sharing something that the rest of us aren't privy to. They each belong to each other.
Déjà, a three-and-a-half year old pit bull-Shiba Inu mix, came into Penny Lane's life about two years ago, after a friend had found her running from a house while being abused by a group of people shouting and kicking her in the head. Penny Lane's friend called her and asked her to take the dog in, and without hesitation she accepted. "When [Déjà] came over to the apartment I sat down like this and she curled up in front of me and she looks up and me and I look down at her and I said 'Where you been?!' and she goes 'Where you been?!' Haha! You know what I'm sayin', it was one of those things. So déjà vu that's her name. She has not left my side since I've had her." And for Penny Lane, Déjà couldn't have come at a better time, either: "Deja was a sincere blessing to me. She came to me at a time when I was really really struggling again with everything, our addictions, and this that and the other, and bad people coming into our life… And trying to compensate with my music to help myself heal inside wasn't enough. I needed to have an animal in my life again desperately...So it's like, you know, who saved who?"
Penny Lane's path has not been an easy one. She was an aviation store keeper in the Navy during Desert Storm and was raped by another service member. Her rapist's father was a commander, and instead of being offered the help she needed they buried her in paperwork. "It left a lot of scars in my head. It bothered me because I went in to fight for my country and my country didn't fight for me. Right now I'm battling through that maze; that made so many changes in my life that went bad because of that." Although she had signed on for four years, she went AWOL one year into her service after her rape, and awoke in a Maryland hospital after attempting to take her own life. Although the scars have not healed, Déjà has helped Penny Lane by leaps and bounds. "If it hadn't had been for Déjà, I probably would have jumped in the hole and pulled the hole in after me a long time ago. I was having breakdowns three times a day and the stress was getting to be unbearable and unmanageable and it was really affecting me in weird ways until she came along. She helped me kinda pull everything in and get more focused on what her needs were, which helped me focus on what our needs were."
Penny Lane became homeless shortly after arriving in Seattle from her home in Dallas, Texas in the fall of 2010 . She had been offered a job and a place to live by someone she knew from high school, but as it turned out, the business he ran was fraudulent and the apartment he offered her belonged to someone else. She soon found herself with bounced paychecks and no place to live. Over the past five plus years, she's found community in Nickelsville, been scared for her life sleeping on the streets, enjoyed beautiful mornings living out of the forest near Burien, couch-hopped with friends, and been part of transitional housing initiatives that have failed her and the others they aimed to help. These days, Penny Lane lives with her partner, Tony, and Déjà in an RV in the Ballard Safe Lot and their case manager is helping to find them housing. Tony has heart issues that require access to 24-hr/day electricity, which has made homelessness even more difficult for them. Even that is something Déjà can help in some ways, though: "Her emotional support offers healing energy to help keep us centered, our blood pressure down – it helps us calm down... She kinda settles things down which is good for Tony's health as well, especially with his heart condition."
Like most people experiencing homelessness with their animals, Déjà comes first in Penny Lane's life. "I got her shots done recently at that [Doney clinic] downtown, which is an awesome, awesome resource for a lot of us who are out on the street and can't afford medical care right away, or maybe we needed a little help with some dog food or dog beds, toys, treats, things that we want to buy that we can't afford that we see in the window... Every 2nd and 4th Saturday of the month, we're lined up down there and we'll stay there all day long, you know, if it's for a five minute conversation with the doctor or whatever, to make sure our animals are healthy. And most of us have that connection with their animals that they come first, they'll eat before we do and things like that, you know."
No matter how much love is shared and how much care given, for someone like Penny Lane who is going through homelessness with her animal the stigma faced is fierce. Penny Lane has been out with Déjà flying a sign, actively feeding Déjà before taking a single bite of food she's been given, and had passers-by shout at her that she isn't taking care of her dog. "If I didn't have her, I'd probably be in bed and my depression would have been a lot worse if I didn't have to get up each morning and see the leash in her mouth, you know what I'm saying? Because it does, it does a positive thing. When I heard the voice of that jerk that passed by us that day that said 'Feed that damn dog!', I'm sitting here going, you know my dog eats before me."
Penny Lane remembers one difficult night in particular when Déjà sat by her side. It was just before midnight on Christmas Eve and it had started to rain. She heard sleigh bells in the streets and the sounds of people coming home from holiday parties, gifts in hand. Sitting with Déjà, she pulled out her guitar and started writing a song - "it's about coming from the eyes of someone who's never experienced homelessness before and seeing it for the first time and taking notice of that. Seeing, you know, it's cold outside, but there's people that are really freezing, really, really cold. And it's kind of like it's no longer able to be swept up underneath any carpeting in City Council, it's right here." The song is titled "30 Degrees Below Faith".
As for Déjà, Penny Lane has written her her own little jingle: "She's a pig and a hog, she's Déjà dog! How many dogs does it take to bake a Déjà chocolate cake, oh how many dogs does it take to bake a Déjà chocolate cake?"
Again, it's clear these two are in on something real good that the rest of us aren't privy to.